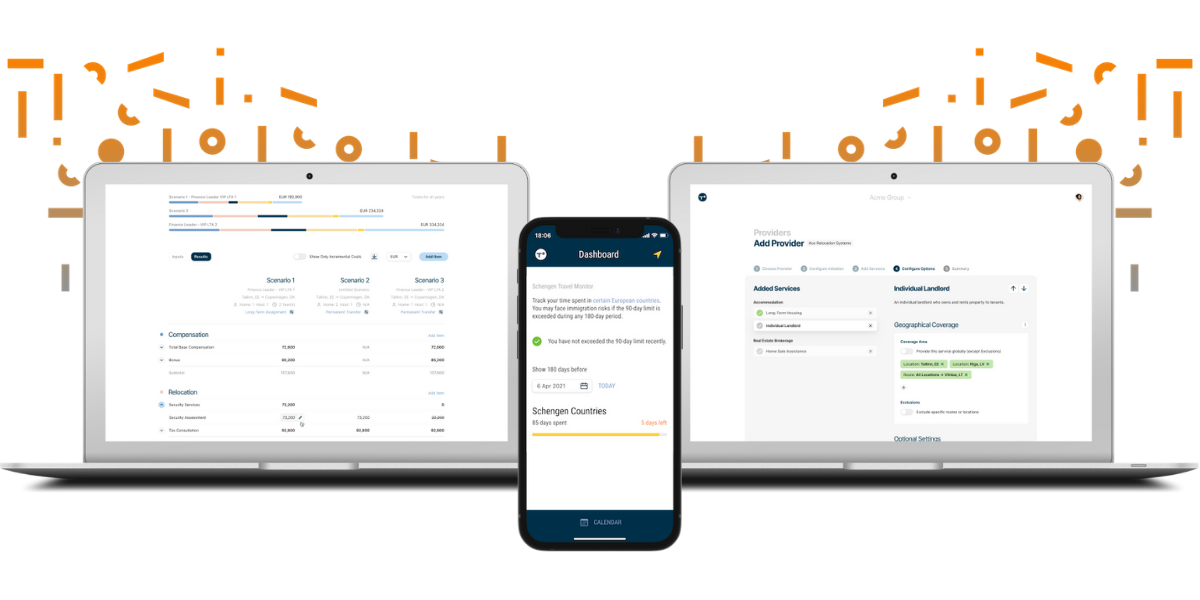 Topia's Spring '21 Product Release Brings New Features Across the Board
Spring is full of new arrivals, including Topia's latest product release. With this release, we see improvements across the product suite that help organizations unlock new insights, act with agility, and operate compliantly in today's shifting global landscape. Read on for the key details about the latest features from Topia.
Instant Side-by-side Simulations with Topia Plan
Mobility programs know the importance of working dynamically and quickly with business stakeholders during the planning process for deploying talent. Side-by-side simulations give mobility teams the ability to provide different options for filling roles and immediately demonstrate budget impacts which is hugely valuable in driving strategic decision making.
Customers with Topia Plan can now compare up to three scenarios side by side – including different candidates, different policies, locations, start dates, durations, etc. – and visualize the difference in cost between the three scenarios with line item level detail as well. This can be done outside of the initiation process, making it easy to explore the right way to deploy talent in a collaborative manner with stakeholders. And with Topia's award-winning user experience and role-based access, mobility teams can empower business stakeholders to run scenarios themselves – removing the messy Excel email exchanges that have been far too common in mobility.
Side-by-side simulations is now a standard tool available to Topia Plan customers. Learn more about Topia Plan here.
New Vendor Management Portal
It's no secret in the mobility industry that a big reason to maintain the status quo with existing vendors can be the amount of effort it takes to change or update vendor relationships – often requiring redoing internal processes, reimplementing systems, and disrupting reporting. The Topia One platform changes all that, transforming a heavily manual and laborious process into one that can be done with a few clicks.
In Topia One's configuration hub, customers can now view and manage their global provider relationships in one place – easily adding, removing, or expanding relationships and immediately seeing these changes in the providers initiated for services within Topia's workflows. Topia One's data standards mean organizations also gain a single view of their service provider performance including spend and satisfaction.
Vendor management functionality is a standard feature available in Topia One. Learn more about Vendor Management here.
Schengen compliance supported in Topia Compass
Brexit has added Schengen Area compliance to the list of things UK-based companies must manage as a result of the UK leaving the EU. Topia Compass can now support organizations in complying with Schengen area rules – in particular the complex, multi-country rolling count of days needed to monitor compliance with the 90/180 day rule now imposed on UK-based employees and non-EU domiciled employees.
Topia Compass can now track and aggregate travel days across the entire Schengen Area. It provides early alerts, visual dashboards and factors in for both personal and business travel to help keep employees and employers compliant – avoiding fines, penalties and messy deportations.
Schengen Compliance is an optional feature for Topia Compass customers. Learn more about Topia Compass here.
We also added a number of smaller improvements that enable greater flexibility in how organizations run their mobility program and provide better user experiences. They include…
Cost caps and floors for cost estimates
Cost estimates generated by Topia Plan now support caps or floors for a given benefit category, enabling organizations to offer flexibility in their policies while still controlling the cost and delivering accurate budgets.
New move timeline for employees and HR
Topia's new and improved move timeline, visible in both Topia Go and Topia Manage, helps customers and employees more easily track and overlay the different events and milestones relating to an employee's mobility. Both employees and mobility teams can be aware of 'what's next' at all times.
Topia is committed to delivering the innovative solutions companies need to leverage distributed workforces in this rapidly changing talent environment. Want to see these great new features in action? Schedule your demo by clicking here.