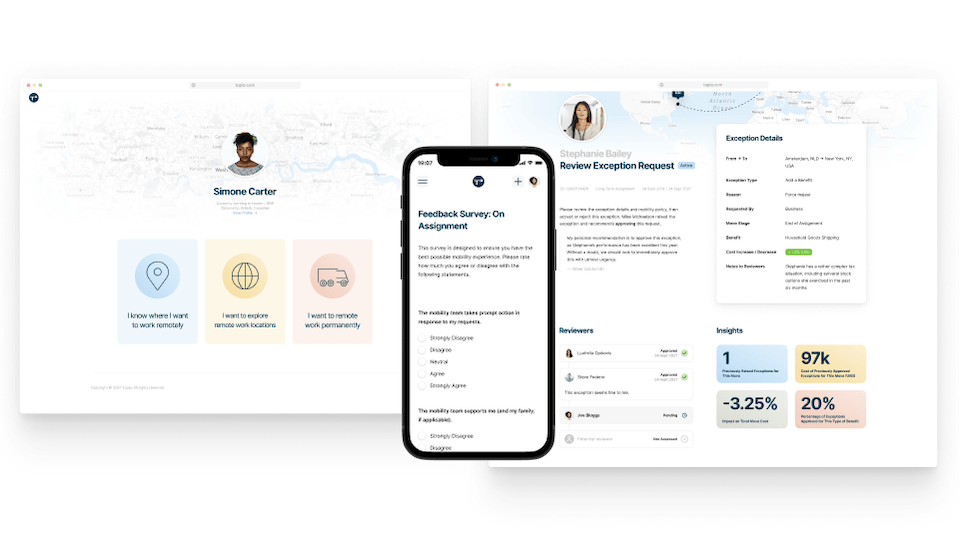 Topia's Spring '22 Product Release Reveals Industry-First Arrivals
With spring comes much excitement, including Topia's latest product release. We are thrilled to reveal the industry's first end-to-end solution for remote work management, as well as more exciting and innovative new features to unlock greater insights and drive agility across the Topia solution. Read on for the key features now available from Topia.
Topia's Industry-First Remote Work Management Solution
Topia's remote work offering enables organizations to leverage a single automated solution to help explore potential remote work locations, submit remote work requests, assess them for risk and compliance concerns, and manage the remote work process for both HR teams and mobile employees.
Topia's remote work solution delivers a delightful employee experience, configurable workflows, and built-in compliance logic to enable organizations to tackle the full employee lifecycle of remote work:
Explore: Allowing employees to explore what remote work options are available to them, and guiding employees towards appropriate options that are likely to be approved
Request: Providing a single place for all employees to submit requests, eliminating manual emails, messy spreadsheets, and inefficient back and forth
Assess: Assessing remote work requests for suitability with company policy as well as global tax and immigration risks
Manage: Actioning a request for appropriate reviews, approvals, notifications, and initiating support services where necessary (and included in the policy)
Comply: Help prevent inadvertent and costly compliance breaches with an audit-friendly, defensible way to determine where work is actually happening
With the widespread adoption of remote work, global talent mobility plays an increasingly central role in an organization's broader talent strategy. Topia is the only solution provider to allow organizations to seamlessly manage remote work, business travel, short and long-term assignments, relocations, and more under a single platform enabling organizations to approach remote work as a holistic part of their global talent strategy.
Continued Expansion of Off-The-Shelf Integrations
Oracle Cloud HCM
Topia is delighted to announce our expanding HRIS integrations to include Oracle Cloud HCM. Through this partnership, Topia is delivering on its commitment to bring together the key systems required to leverage talent mobility as part of a global talent strategy and connect the dots between static and mobile employees in order to provide a holistic view of talent. Other HRIS integrations include Workday and SAP SuccessFactors,
Sirva
We are thrilled to announce our standard integration with Sirva Worldwide Relocations & Moving. The Topia-Sirva integration enables our customers to initiate one-off moves.
Empowering Employee Check-Ins
Understanding employee experiences during their mobility journey is critical to retaining top talent. Topia's new Mobility Check-Ins feature enables employees to provide feedback at designated touchpoints of their mobility journey. This will enable HR teams to have an immediate view of employee satisfaction and the performance of individual mobility programs - allowing businesses to react and retain top talent. This rich data can also feed into organizational KPIs and power cross-company benchmarks on what is and isn't working in today's mobility programs.
Enhanced Payroll and Compliance Automation Capabilities
Topia is committed to delivering a solution to help simplify the complex world of payroll efficiency and compliance. Our new payroll functionalities, as part of Topia Pay allow Topia to easily deliver payroll instructions to your global payroll providers.
Industry Gold Compensation Worksheet
Topia's Compensation Worksheet, availability with Topia Manage continues to deliver the industry gold standard to support mobility teams in navigating the complex world of global mobility compensation. Our new functionalities enable users to edit tax settings for the calculation of taxes contributing to net pay and tailor compensation worksheets to apply to individual employee situations. This includes the application of exemptions and deductions to ensure hypo tax numbers are increasingly accurate.
Improved scalability through our e-signature integration
As part of our approach to providing modern consumer-grade technology, we've created a standard integration framework for eSignature of documents. We're able to connect in our off-the-shelf integration with DocuSign instance or use our customer's e-signature tool to sign/acknowledge documents created throughout the mobility process, further enhancing a sleek scalable process.
We've also added a number of smaller improvements that enable greater flexibility in how organizations run their mobility program and provide better user experiences. Want to see these great new features in action? Schedule a demo here