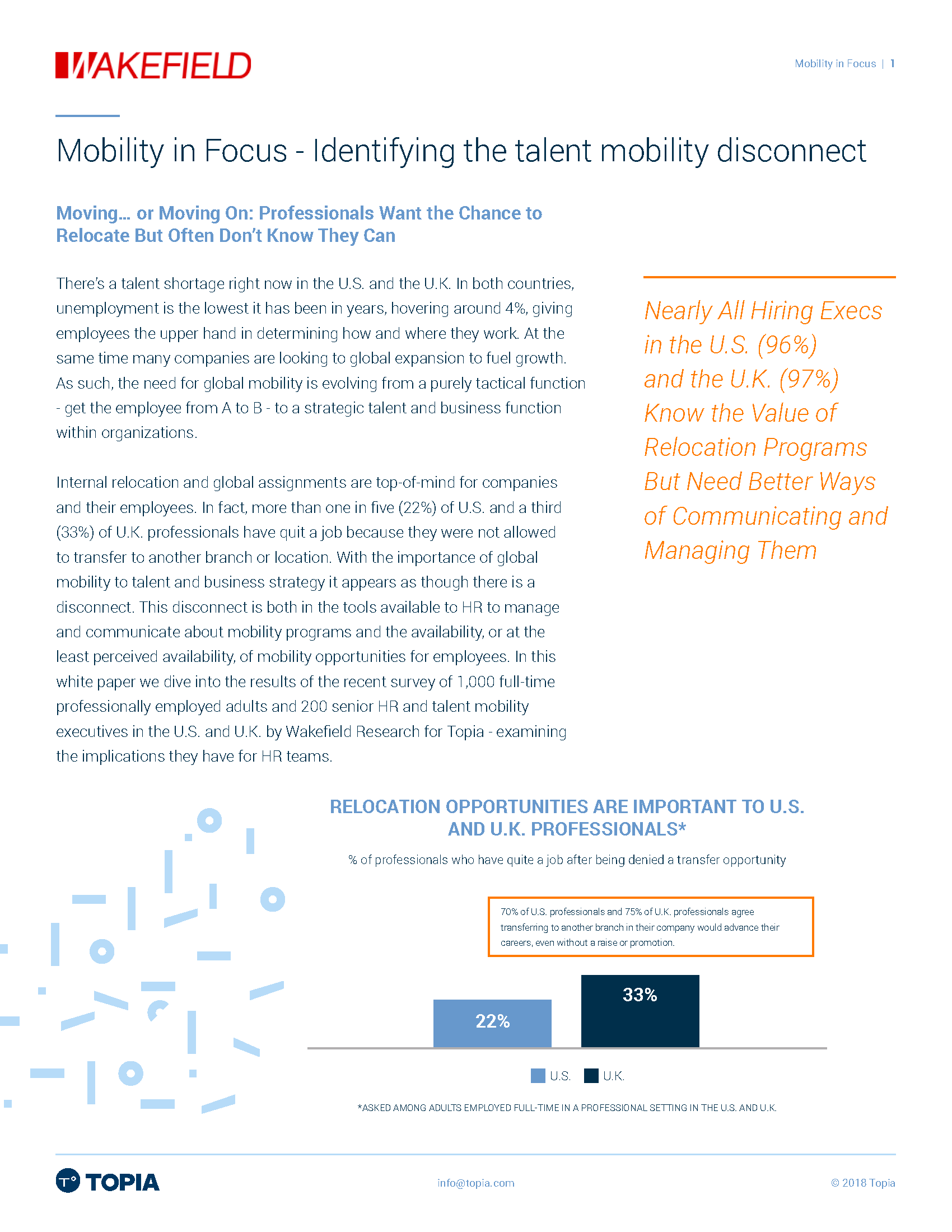 Let Mobility be the Solution to Your Talent Turnover Problem
Faced with an undeniable talent shortage that's expected to only grow larger in the coming decade, companies across every industry are working overtime to up their game when it comes to attracting and retaining talent.
While it's well known that much of what motivates employees to stay revolves around company culture, engagement and a sense of purpose in their work, surprising new evidence shows that mobility is also a major factor in employee satisfaction.
Today, we're releasing the results of a new survey, Mobility in Focus: Identifying the Talent-Mobility Disconnect, that uncovers just how big of a role mobility opportunities play in employee retention. As it turns out, it's huge.
The study, conducted in partnership with the team at Wakefield Research, reveals that lack of mobility can actually drive employees away. More than one-fifth of U.S. employees and a third of U.K. employees have quit a job because they weren't allowed to transfer to another location. And, among those who haven't left yet but have considered it, over half say they would stay if given the opportunity to relocate—even if it meant no increase in pay or benefits.
Anecdotally, we've known this for years at Topia—that mobility is as important to employees as it is to companies in cultivating success. Employees want the opportunity to work in and experience new locations and new cultures, particularly Millennials and Gen Z.
Many companies do offer this exciting opportunity, but it seems few are actually leveraging mobility programs as a recruitment and retention tool. In both countries, employees overwhelmingly recognize the value of mobility in enhancing their careers, but it seems companies aren't making those opportunities known. Our study found that while nearly every company we surveyed offers transfer or relocation programs, over 40 percent of employees say they either don't have or don't know about mobility opportunities.
Clearly, that's a tremendous disconnect, and one that could easily be solved with better internal communication about mobility programs. By actively promoting mobility as a strategic differentiator in the war for talent, companies can capitalize on this incentive to attract high-performing talent.

Of course, we've also long suspected that part of the challenge is that too many companies lack the appropriate resources and capabilities to effectively manage a strategic, proactive mobility program. And, our survey results confirmed that, too. Roughly a quarter of U.S. and U.K. executives spend 40 hours or more per month on admin tasks related to mobility, and most say the cost of relocation is a primary concern. Meanwhile, many also struggle with managing the tangle of logistics involved in relocation—all of which consumes valuable time and energy that HR teams could be devoting to more strategic endeavors.
At the same time, employees' expectations around mobility are very high, with an overwhelming majority of professionals expecting the company to provide move-related assistance ranging from cash allowances and housing assistance to spouse and family support. Fortunately, HR execs are more than willing to provide that level of service, but again, the administrative burden is an obstacle.
While the results of our investigation might sound daunting at first, we believe it's just the opposite. There is tremendous potential to improve mobility programs through better communication, more efficient logistics and enhanced relocation support for employees.
Now that we know mobility can and does have a direct impact on the ability to competitively attract and retain talent, it's imperative that companies act quickly to resolve their mobility challenges as the war for talent heats up.
We're here to help. Topia's complete global mobility platform provides the industry's most comprehensive solution for end-to-end mobility management. We offer a suite of mobility technology and services, bringing together relocation, mobility, tax, payroll and immigration into a single platform and giving our customers a consolidated source of truth for their program.
Topia's mobility solution can help solve your turnover problem today and give you the state-of-the-art tools to execute the strategic talent acquisition and retention strategy you need to remain competitive tomorrow. Click here to request a demo of our solution today.