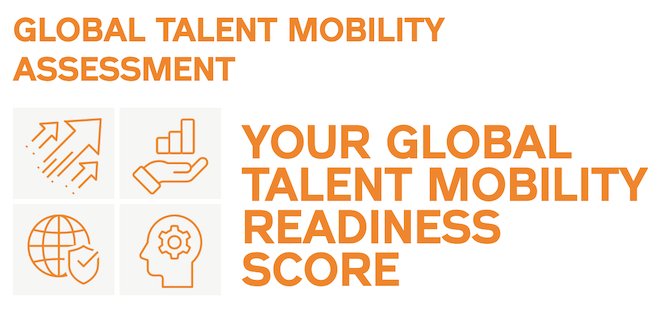 Understand Your Global Talent Readiness With Our New Framework
For the last decade, we've seen organizations increasingly realize that their talent pool is global. They need to find the best talent, regardless of location, and quickly get them on board. They need to think globally to retain and develop top talent – or risk losing out to competitors that will. And time and time again, we've seen organizations struggle to tie these talent aspirations to best-in-class delivery across their global mobility function.
In many cases, that struggle is three-fold:
First, difficulty understanding what 'great' looks like for global talent mobility. What are the leading companies doing to deliver global talent mobility effectively, stay compliant and delight top talent?
Secondly, the challenge in understanding the truth of where their organization is today. Without the right framework in place – formulating an independent and clear point of view often involves costly external consultants and timelines that drag for months.
And finally – for those lucky enough to solve the first two – the final hurdle is often rallying the organization around the right aspirations for the next 2-3 years. So often, I've seen a mobility transformation effort aim too high ("We must be best in class at Employee Experience AND Automation AND …") – and then trip at the starting line.
Today we're introducing the Global Talent Mobility Assessment. This sophisticated self-service tool helps companies assess the current maturity of their global talent mobility programs, compare to best-in-class practices and start to foster the conversation around realistic aspirations for the next few years.
This tool was borne out of years of experience working with mobility programs of all shapes – across geographies, industries, and sizes. We've seen how hundreds of companies operate and how many have overcome numerous challenges along the way. We have distilled down the complex world of mobility into four distinct pillars: Employee Experience, Compliance, Data Maturity, and Operational Efficiency.
The power of this tool is twofold. It allows your mobility team to articulate where your mobility program is today. Once you are aligned on where your organization stands (you'd be surprised by how disparate the points of view are within your own company!), you can use the tool to create a path to modernization and mobility excellence. Then, once the roadmap has been created, you can tie in your aspirations to the broader corporate agenda, helping secure senior buy-in and support for your journey.
Achieving best-in-class mobility is a multi-year, multi-stage journey – but we are here to partner with you on that endeavor. Topia's Global Talent Mobility Assessment tool empowers you to take the first step in planning your journey to a fully mature global, best-in-class talent mobility program. Read more about the global talent mobility imperative by downloading the new IDC whitepaper, register for our webinar, or dive in and take the quick assessment to see where your business stands. Once you've taken the assessment, we'd love to discuss your results and are happy to offer a no-obligation consultative hour with our Topia mobility experts.