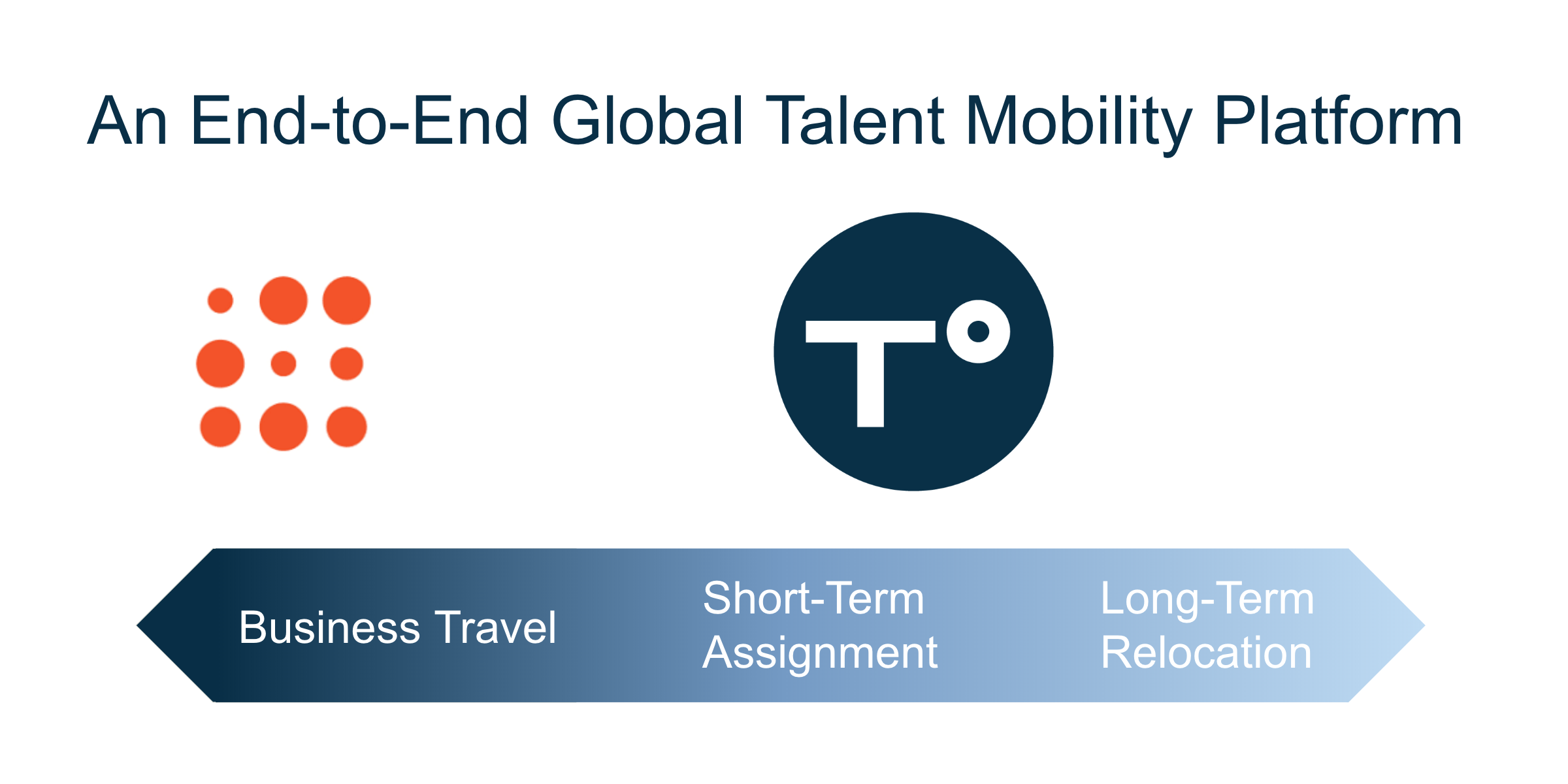 The Monaeo Acquisition: What it Means for Global Talent Mobility
Since launching in 2010, Topia has become the industry's leading Global Talent Mobility platform. We serve Fortune 1000 and Forbes Global 2000 companies that drive economies, connect markets, and enrich our global community. We help them deploy, manage, pay, and engage their talent worldwide.
Our acquisition of Monaeo announced today, marks an inflection point in Topia's journey. We now have an end-to-end Global Talent Mobility platform that encompasses business travel, temporary assignments, and all types of permanent relocation. We are redefining "mobility."
Here's what this means for our industry, our customers, and the future of Topia.
Beyond Relocation
Over the last decade, Topia has established itself as the cloud platform for relocating employees. Whether it is our modern user experience for relocating employees, our powerful tax engine supporting real-time cost estimates for over 110 countries globally, or our leading payroll services capabilities – many of the world's largest companies rely on us as the backbone for their mobility programs.
Today, market and customer needs have evolved. Global mobility now has the power to influence talent strategy and enable companies to deliver enhanced employee experiences and gain competitive advantage. This shift requires a different approach, it needs an end-to-end platform that supports all "employees on the move" and delivers operational efficiency, actionable insights, compliance management, and delightful employee experiences.
This expanding definition of talent mobility means that a comprehensive solution must encompass beyond permanent moves and temporary assignments – and support visibility and compliance of talent mobility that is measured not in months or years, but days. Business travel compliance is critical in this new reality. The global business travel market is a $1.4 trillion industry. In the U.S. alone, people take some 405 million business trips per year, exposing their organizations to new tax jurisdictions, regulations, and risks.
As enterprises are increasingly more location-independent, government entities have become more vigilant about collecting taxes from mobile and digital workers. The burden is on companies to document their movements and stay compliant.
At Topia, we thought hard about how can we better help our customers manage business travel compliance risk?
Monaeo addresses this specific challenge. The Monaeo technology monitors employee business travel, and proactively identifies potential tax exposure. Also, Monaeo can provide complete visibility into where employees are presently located and where they have been, while protecting employee privacy and helping organizations stay compliant with local regulations. It's a powerful tool for minimizing costs, preventing or defending audits, and protecting employees in times of crisis.
By acquiring Monaeo, we can now bring these core capabilities into the Topia platform and deliver increasing value to our customers.
The New Standard for Global Talent Mobility
With the acquisition of Monaeo, Topia now has the industry's most comprehensive Global Talent Mobility platform that addresses global mobility, compliance, payroll, and employee experience. With Topia, you can now:
Know where your employees are and where they have been
Whether you need that data at your fingertips for compliance, tax documentation, or immigration, you can see your mobile workforce on a digital map. You can also use this data in the event of an emergency, to determine where your people are and how best to support them. And all this can be done while staying compliant with privacy regulations around the globe.
Manage your tax exposure and eliminate risk
No finance department wants to learn about employees' travel history from a tax auditor. An accidental permanent establishment is high on every CFO's list of nightmares. With Topia, your tax and internal auditing teams can monitor employee mobility and ensure compliance. The travel-data silo is now eliminated.
Manage all your global talent mobility with a single, integrated platform
Topia can provide visibility and insight across the entire spectrum of talent mobility – from a few days to many years. For the first time ever, companies can easily understand the true costs, identify risks, and draw insights to optimize their business. You can optimize across your supply chain, support delivery of your global talent strategy, and be ready to respond to developing global risks.
Looking Ahead
Global mobility of the past was about manual processes and complex spreadsheets. It required expensive consultants, piecemeal solutions, and a massive effort by global mobility managers. Topia digitizes and automates the entire Global Talent Mobility process – from short-term business travel to long-term assignments and relocations.
I'm excited about what Monaeo brings to Topia and the industry at large as part of the leading Global Talent Mobility platform. On behalf of the Topia team, I want to welcome Monaeo co-founders Anupam and Nishant, and the entire Monaeo team to our family.
Onwards and upwards!