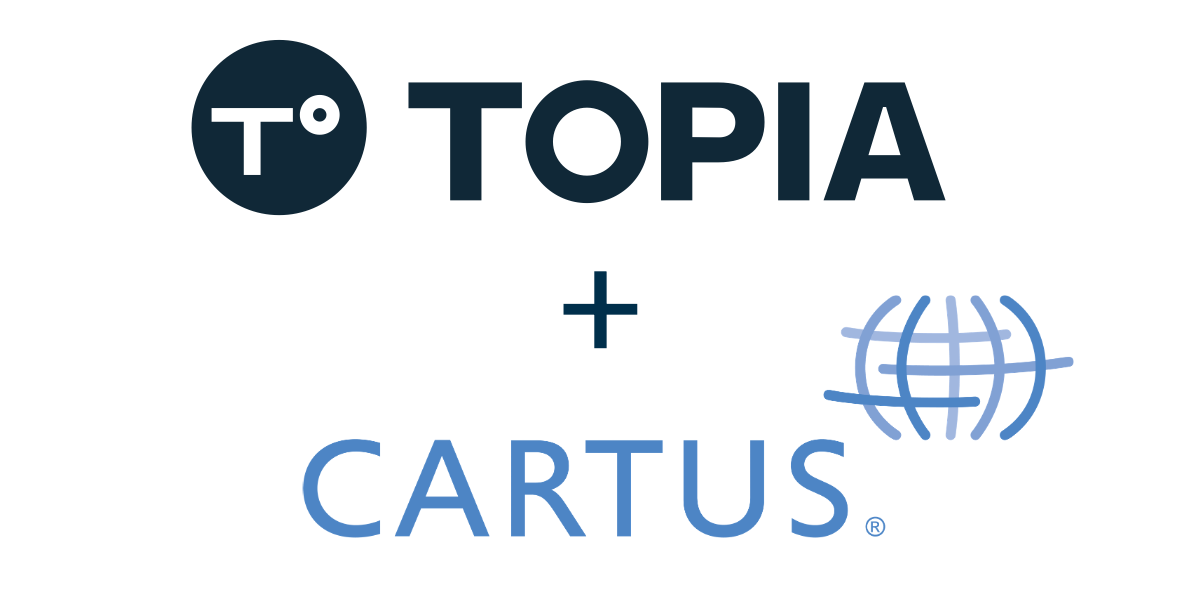 Topia partners with Cartus and expands the availability of its best-in-class distributed workforce compliance management solutions
By now it's clear that distributed workforces will be the norm even after COVID-19 abates and it is safe to get back to life as we once knew it. Organizations large and small are taking steps to adopt more flexible policies. For instance, Salesforce announced it will now allow certain employees to choose one of three working models – fully remote, part-time in the office, or fully in the office. Facebook, Microsoft, and scores of others have made similar moves.
Massively distributed workforces will pose new and unique challenges for organizations that have been used to having the vast majority of employees spend most of their time in an assigned location. When an employee can work from home, it is likely that they will take advantage of that flexibility to work from anywhere – at a parent's or relative's home, a vacation house, across city, county, and state borders, or even in different countries. In a soon-to-be-published Topia survey, we found that 28% of employees who have been working from home since March 2020 have worked outside their home jurisdiction and 67% of those employees failed to report all those days to their employer.
This new reality means that HR and finance teams that do not know the work locations of their employees or anticipate upcoming travel face a rapidly ballooning risk of audits, of tax penalties, and of running afoul of immigration laws among a variety of other regulatory requirements. The only practical way to manage these issues at scale is with the help of technology-based distributed workforce compliance management solutions, among which Topia Compass is the market leader.
The newly announced strategic partnership between Cartus and Topia is an important development to exactly that end.
First, as Cartus' Executive SVP, David Pascoe described, in launching their new market offering, Cartus will be leveraging Topia Compass to "help clients seamlessly yet confidently mitigate the risks of business travel and a distributed workforce while maximizing the many benefits for sustained business growth, talent retention, and strategic agility."
Second, David underscored our market-leading positioning when he described why Cartus, the world's foremost RMC, decided to partner with Topia for this important high-priority strategic initiative and invest in Topia Compass. "After assessing different compliance automation solutions in the marketplace, we recognized that Topia Compass was far and away the best match for our clients."
In other words, this partnership will help expand access to the leading solution that helps address the compliance risks and challenges facing enterprises today. Topia Compass built atop Topia One — our next-generation unified, data-driven workflow automation platform — enables companies to automate tax, payroll, immigration, and regulatory compliance for mobile employees—a category that now includes every employee no longer working from a corporate office. Cartus, world-renowned for its relocation services, is introducing new offerings for business travel and remote work-related compliance, powered by Topia's best-in-class technology solution. Together we are making it easier for organizations to add a compliance management solution, whether they want a tech-only approach or a fully-managed offering.
Finally, this partnership is noteworthy for a few other important reasons, in that it:
further expands the value of the Topia One platform to our customers and partners due in part to the continuing exponential growth in the breadth and depth of our integrated, strategic partner ecosystem;

brings together two leaders in the talent mobility space with deep expertise and a proven track record of serving large multinational Fortune 100 companies just as well as mid-sized enterprises; and

last but not least, it makes very clear that Topia is focused squarely on delivering innovative and industry-leading technology solutions for global talent mobility in close partnership with best-in-class service providers across the mobility ecosystem.
Flexible and remote working arrangements are fast becoming a key component of the future of work. As such, we are thrilled to welcome Cartus into our strategic partner ecosystem and accelerate, yet again, the journey to fulfill our mission of helping companies and individuals work everywhere.
To learn more about this exciting announcement, read the press release here. And if you too would like to explore a potentially transformational partnership, I'd love to hear from you.