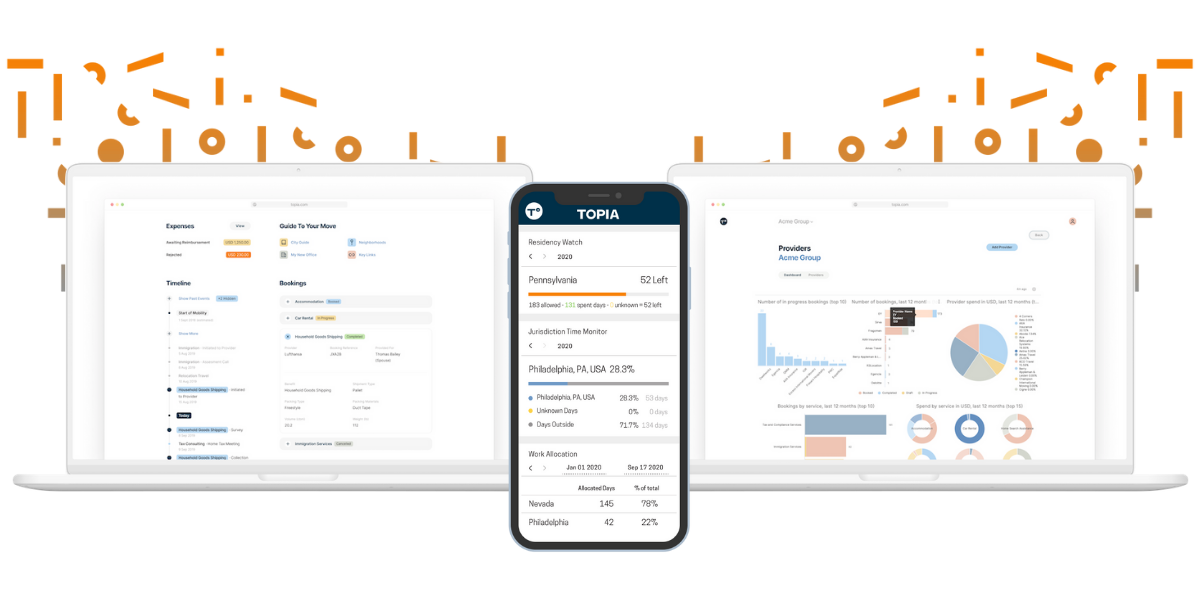 Topia's summer product release: Pre-travel compliance workflows, remote work tax optimization, and more
Just in time to wrap up summer, our latest product release is here! In this release, we continue to help organizations manage compliance related to business travel and remote workforces; we are introducing a new offering tailored for small- to medium-sized mobility programs; and we've added numerous features to enhance the employee experience and deliver better mobility insights. Read on to learn more about the latest features and offerings from Topia.
Introducing Topia Select, the ideal technology solution for smaller mobility programs
Advanced talent mobility technology is no longer out of reach for organizations with smaller mobility programs. Topia Select gives organizations with fewer than 200 annual moves the essential tools and innovative functionality needed to automate their mobility program and deliver more strategic value to their business — all without the need to carry out any lengthy customized implementations.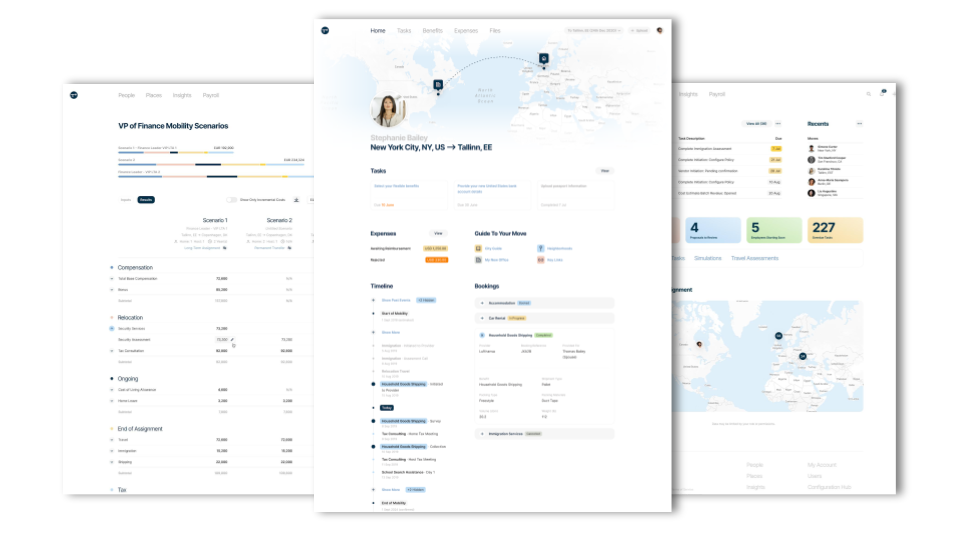 Leveraging the power of Topia One, we've bundled the most popular features from our Topia Plan, Manage, and Go products in an out-of-the-box solution with best practices baked in. Topia Select can be launched in a matter of weeks at a price point that makes sense for the size of your program. And it's available with integrated data from leading data provider AIRINC. Learn more in our dedicated blog post about Topia Select.
Pre-travel workflows for compliance management
The worlds of business travel and mobility have been on a collision course for some time and are likely to further integrate as organizations look to holistically manage their distributed workforces (assignees, remote workers, business travel, etc.). Topia is taking steps to bring those worlds together in our own solution, with a fresh new UI and tailored workflows focusing on pre-travel compliance and approval.
Topia customers now have the ability to review, approve, and trigger travel-related risk-assessments in the same platform that they manage mobility. As part of the process, HR and travel compliance managers can review all potential risks, approve or deny travel, and automatically initiate downstream services using Topia's provider initiation workflows.
Optimize your local Philadelphia tax obligations
Organizations with offices in major US cities may be overpaying local taxes if their workforce often works from outside of that city – which is commonplace now due to Covid and working from home. But it is an enormous challenge to accurately report when employees work in or out of the city in order to appropriately calculate taxes owed.
This challenge is greatly alleviated thanks to Topia Compass, which now supports local jurisdiction monitoring for Philadelphia. This allows organizations with distributed workforces based in and around the Philly area to ensure they are only paying what is owed when dealing with Philly's complicated local tax laws.
Provider insight dashboards
Building on our powerful and intuitive vendor management portal, we've added new dashboards and insights so organizations can better understand how they are utilizing their vendors. Provider networks can be vast, often with local offices fostering local provider relationships. This can leave mobility teams unsure of where best to focus their efforts in managing relationships with providers to drive cost, risk, and experience improvements for their program.
Our new dashboards provide a holistic view of vendor utilization, helping ensure every relationship is managed appropriately, and offer mobility teams the opportunity to spot areas for improvement. We've also added quick view tiles for fast facts about individual vendor utilization when viewing their page in Topia.
Key Links for Employees
Mobile employees typically have a lot of information to keep track of. We've made tracking this information a little easier with our new Key Links section in Topia Go. We now offer the ability to highlight important links at the company or policy level and automatically add a link to the employee's dashboard in Topia Go. These links can connect to other important providers or customer internal sites, and the links are broken down into organized sections with descriptors for each link.
Additional updates to the Move and Person timelines
As we continually iterate based on customer and user feedback, we've updated the Move and Person timelines (accessible as part of Topia Manage and Go) to better focus on events in progress and upcoming key milestones.
With the summer release, Topia continues to lead the way in delivering innovative solutions that enable companies to Work Everywhere. Want to see these great new features in action? Schedule a demo today.