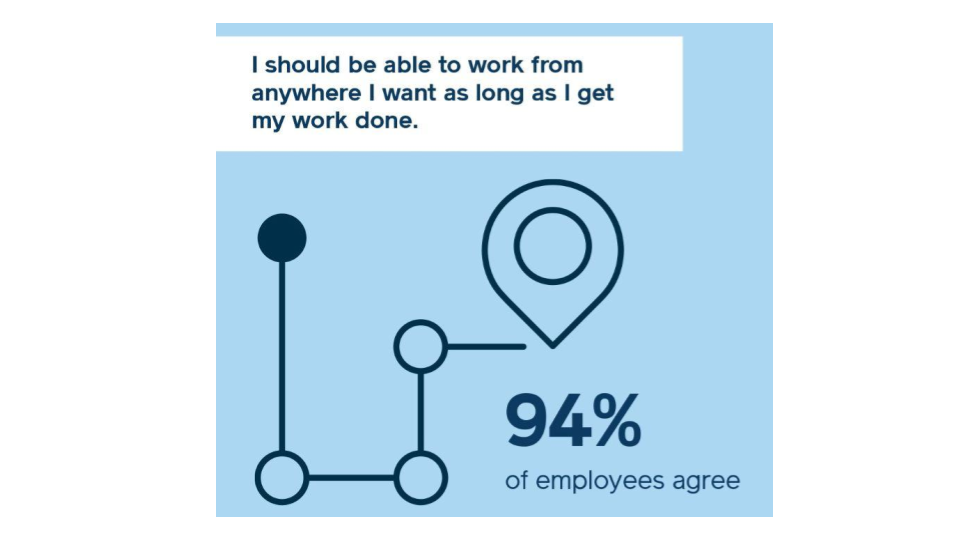 Adapt to Work Everywhere: 5 Key Stats from our 2022 Adapt Survey
The results are in! Remote and distributed work is not only a viable way to get work done, but for many employees, it is now their top demand. In our 2022 annual Adapt survey we reached out to over one thousand full-time office workers in the US and UK to explore the attitudes towards remote work, the drivers of an exceptional employee experience, and the value of mobility. Here are 5 stats that really jumped out to us:
94% of employees agree that they should be able to work from anywhere, so long as they get their work done.
Employees want the freedom to not just work remotely from home, but everywhere. This feeling has increased over the past year (up from 91% in 2021). Failure to provide that flexibility makes hiring and retention more difficult, as we'll discuss later in this article.
90% of HR Leaders believe their employees are reporting their working locations accurately. The reality? 33% of workers are actually doing so
This can create tremendous tax and immigration compliance issues with significant implications for both organizations and employees. To be clear, it's not that employees are breaking location reporting rules intentionally, but rather the reporting process is easy to forget, cumbersome, or unknown.
91% of employees say they are comfortable with their employer tracking their location at the city level. That is enough granularity for HR and finance departments to ensure tax and immigration compliance worldwide.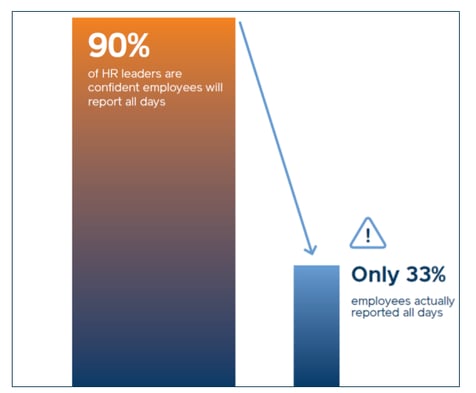 39% of HR staff discovered their employees working remotely where they shouldn't be.
Since the start of the pandemic, 39% of HR staff have discovered employees working remotely where they should not be. In the UK, in particular, nearly half of HR professionals (48%) have detected someone in a country they are not allowed to work. And these are just the employees who were discovered.
29% of respondents changed jobs in 2021, and 34% are planning to resign in 2022
Employees are walking off the job in record numbers, and the data suggest the problem is only getting worse. Lack of flexibility is a major factor, and many employees are disappointed with their organization's remote work policies. An overwhelming majority of employees (96%) feel that flexibility in working arrangements is important when seeking a new job. This near-universal consensus is yet a further increase from last year (93%)
48% of employees believe their company's remote work policy exists to make it easy for the business/HR to say "no"
While 82% of respondents work at a company with a remote work policy, almost half (48%) feel the policy is in place to make remote work applications easier to reject, and 39% of employees feel their company makes it too difficult to work remotely. Lack of flexibility is a key driving force of the Great Resignation, meeting employee demand is not easy, but restrictive remote work policies could run the risk of losing top talent.
The global pandemic has transformed employee attitudes about the nature of work, and companies must adapt to retain and attract the best talent. For more insights, you can download the full Adapt report here.
We hope you'll join our live webinar on March 31st where we will be taking a data-driven dive into the findings.