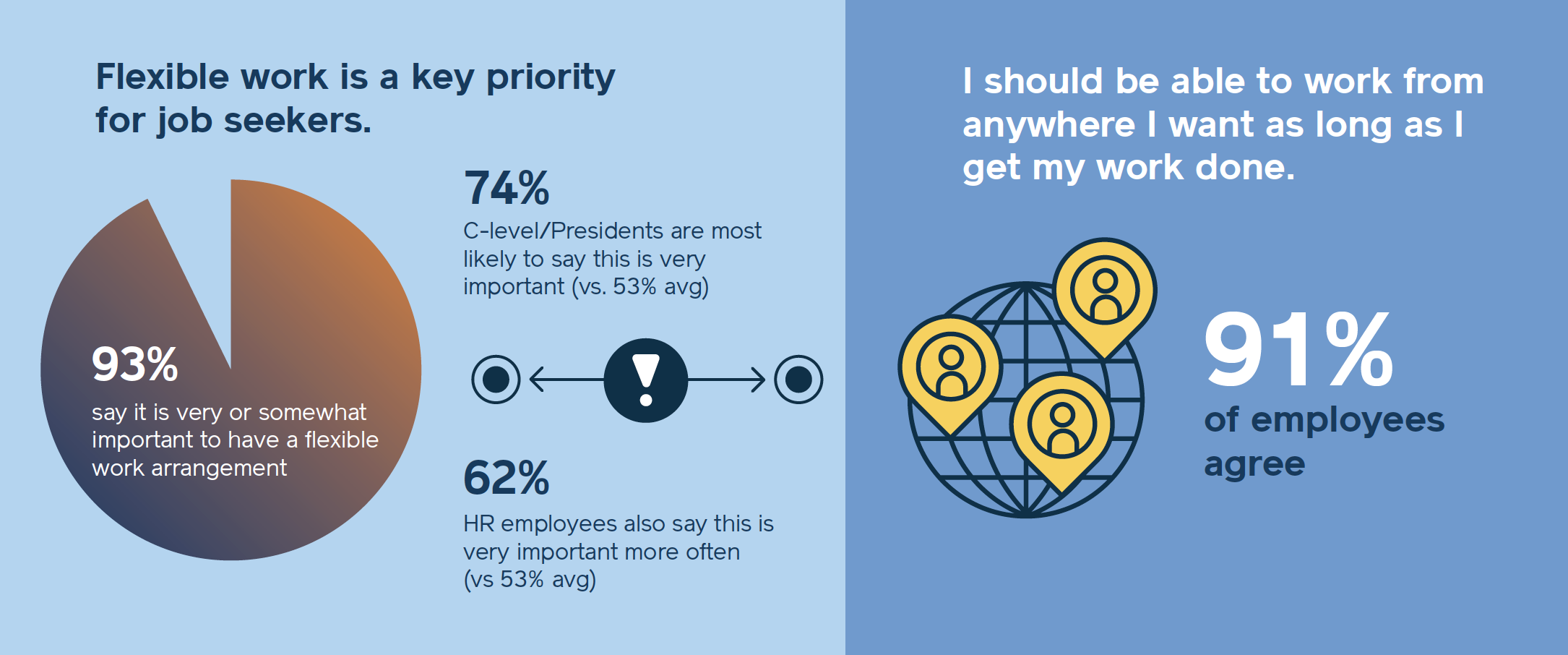 5 stats you need to know from our Adapt Survey Report
In our 2021 annual Adapt survey, we reached out to over a thousand US & UK employees in a professional office setting to find out what drives great employee experience and what organizations need to consider when building talent strategy – and importantly for this year, how COVID had impact employee perceptions and desires. Based on the responses, it's clear that the new trend in how we engage employees will be flexibility. Remote work has been a positive for many employees and based on the survey results we're seeing a large desire for more flexibility in where and how employees get work done. Here are 5 stats that really jumped out to me from the survey.
1. 91% of employees agree "I should be able to work from anywhere I want as long as I get my work done."
Employees want to be able to not just work from home, but work anywhere – the beach, a vacation house, another country – so long as they get their work done. It's no surprise then that 28% of employees who have worked remotely in 2020, worked outside their home jurisdiction. Though, don't forget about the risk that this creates…
2. 78% of HR think employees are self-reporting their working location 100% of the time.
In reality, only 33% of employees are self-reporting when they work outside their home jurisdiction 100% of the time. This can create huge compliance issues and has significant implications for organizations as they think about transitioning to more formal flexible work policies. However, there is some good news…
3. 94% of employees are comfortable with employers knowing what city they're working in.
Many employers are rightfully concerned about employee data privacy. In the case of employers monitoring employee working location, however, employees don't seem to mind employers knowing that information. Proactively collecting this information in an active manner will enable organizations to adopt flexible remote work policies while also being able to keep an eye on potential compliance risks.
4. 32% of employees are interested in taking a long-term assignment in another country.
This is 8 points higher than the year prior. 2020 proved that remote work is a viable way to get work done. This led many to think business travel and traditional international assignments would drastically decline post-pandemic, compared to pre-pandemic levels. However, it is clear that employees are increasingly looking for these international opportunities and can serve as a differentiator for orgs that offer them.
5. 40% of HR professionals don't feel they have the right data for decision-making.
As COVID quickly became a pandemic in the spring it left many HR and mobility practitioners scrambling to figure out where their employees actually were and if they were all safe. As we shift to more permanently adopt remote and flexible working, HR teams will need new solutions that help them monitor employee footprint and collect other key data points around employee engagement and sentiment.
It is clear flexibility is here to stay – though there is a lot that HR and compliance teams need to figure out to make 'work from anywhere' a reality! For more insights, you can download the Adapt report here.
I hope you'll also consider joining me for a live webinar on March 24th where I'll sit down with leading HR and Mobility experts to unpack the survey data and discuss the implications for organizations this year and beyond. Learn more and register here.