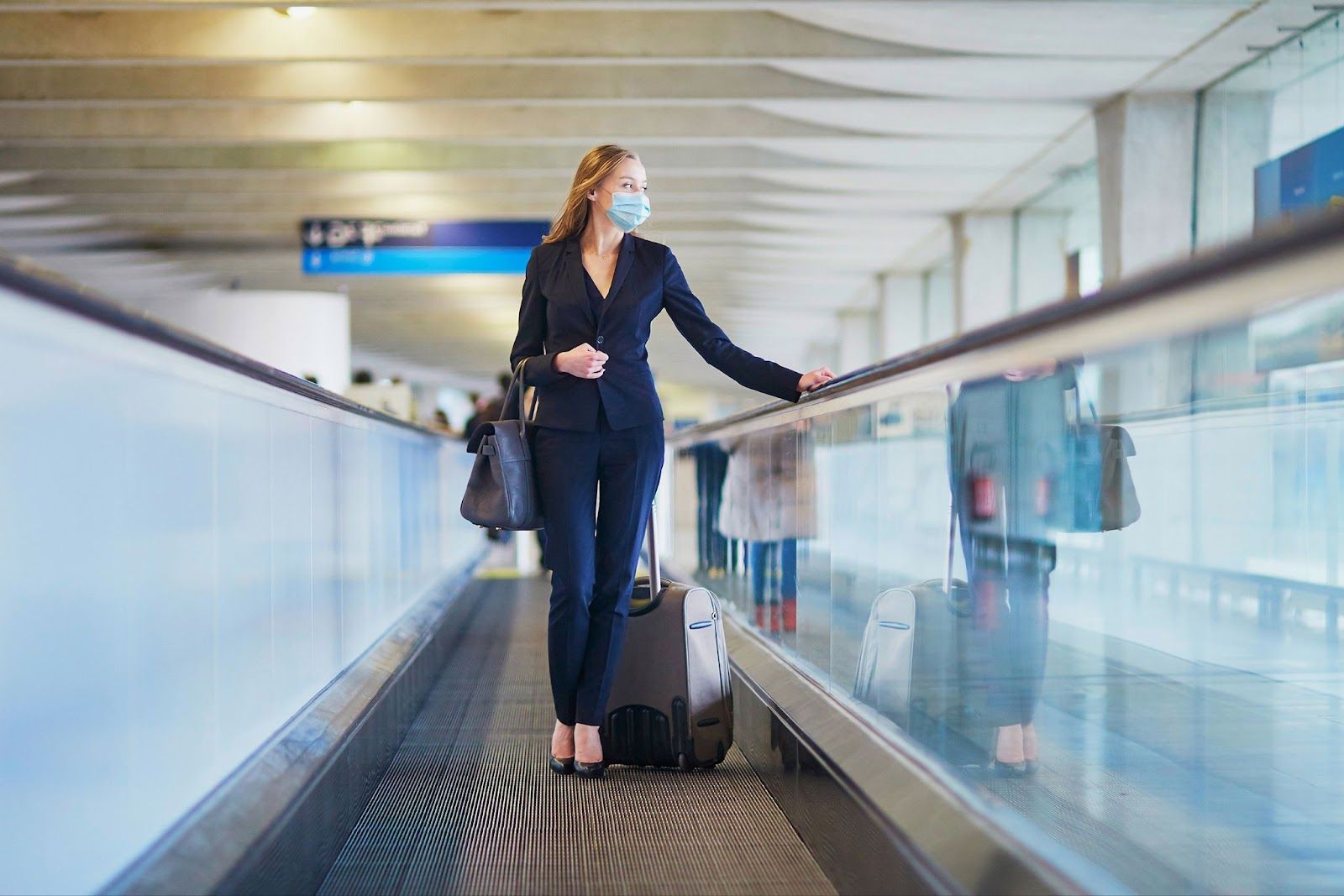 Topia Business Travel News Roundup
Is business travel important to you and your team? To help you stay updated on important trends, we've compiled the latest news, reports, and stories impacting business travel.
Post-Pandemic Business Travel
Earlier this month, Harvey Chipkin published an article in Business Traveler discussing the Global Business Travel Association's COVID-19 recovery poll. According to poll results, business travel volume will likely increase in the coming year, with employees' propensity to travel and combine business travel with leisure time climbing. The poll also revealed that 82 percent of employers believe their workers are "willing" or "very willing" to travel for business, compared to 64 percent in January.
Business Passengers Coming Back
"The business passengers are coming back," said Southwest's vice-president of business Dave Harvey in a Routes Online interview with Wesley Charnock. This enthusiasm goes directly against Bill Gates's prediction that business travel would sink to less than 50 percent of previous levels after the pandemic.
International Air Transport Association Report
According to the International Air Transport Association (IATA), the number of passengers flying globally will approach 4 billion in just two years, surpassing pre-COVID levels. IATA's report predicts air travel will outpace pre-COVID levels by 2024. In a Business Traveler USA article, Hannah Brandler covers the report highlighting that passenger numbers show improvement in both the major North Atlantic and intra-European markets.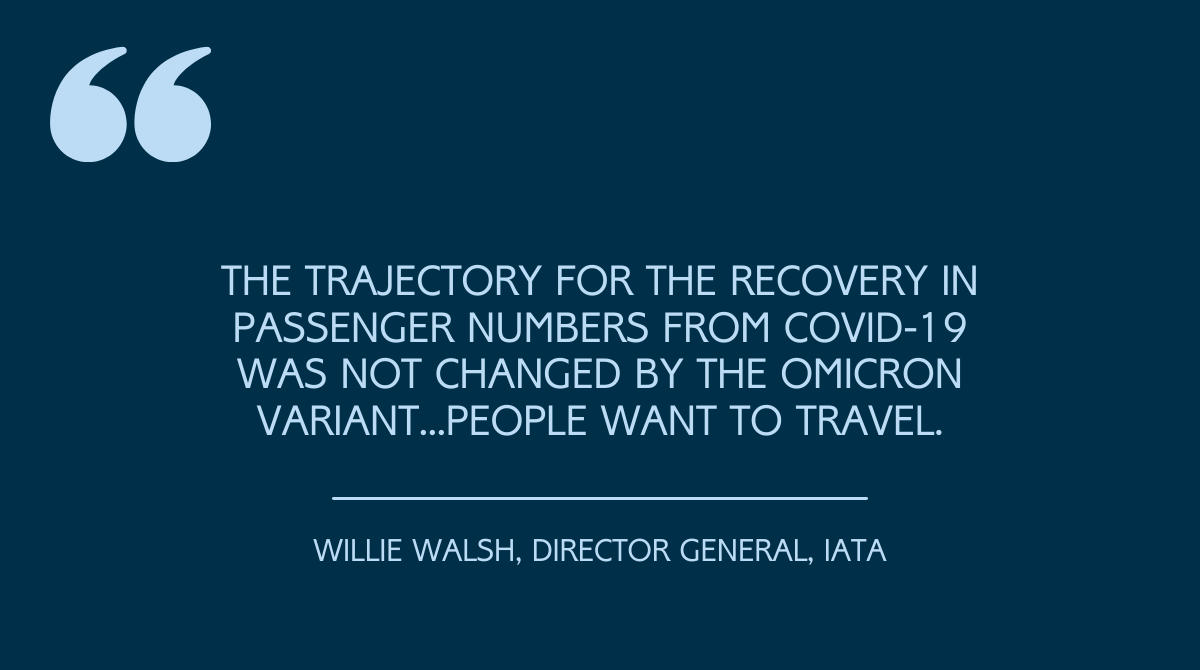 Global Business Travel Association Data
In a ComputerWorld article, Lucas Mearian explores the evolution of business travel. Leveraging data from Global Business Travel Association (GBTA), Mearian discusses significant changes post-pandemic and provides a glimpse into what we can expect to see from business travel in the near future.
Do your employees enjoy "bleisure' trips? The GBTA asked business travel managers if they believe employees are more or less interested in extending work trips for pleasure than before the pandemic. The answer was promising, with 82% of employers reporting they feel their employees are as interested in "blended travel" as they once were.
Amy Hercher highlights GBPTA findings in her Auto Rental News article examining business travel forecasts:
A year-over-year surge of 38% is expected in 2022, bringing global business travel spending back to over $1 trillion.
Recovery will continue into 2023, with global spending rising 23% year-over-year as more international and group travel comes back online.
In 2025, global business travel growth is forecasted to slow to 4.3%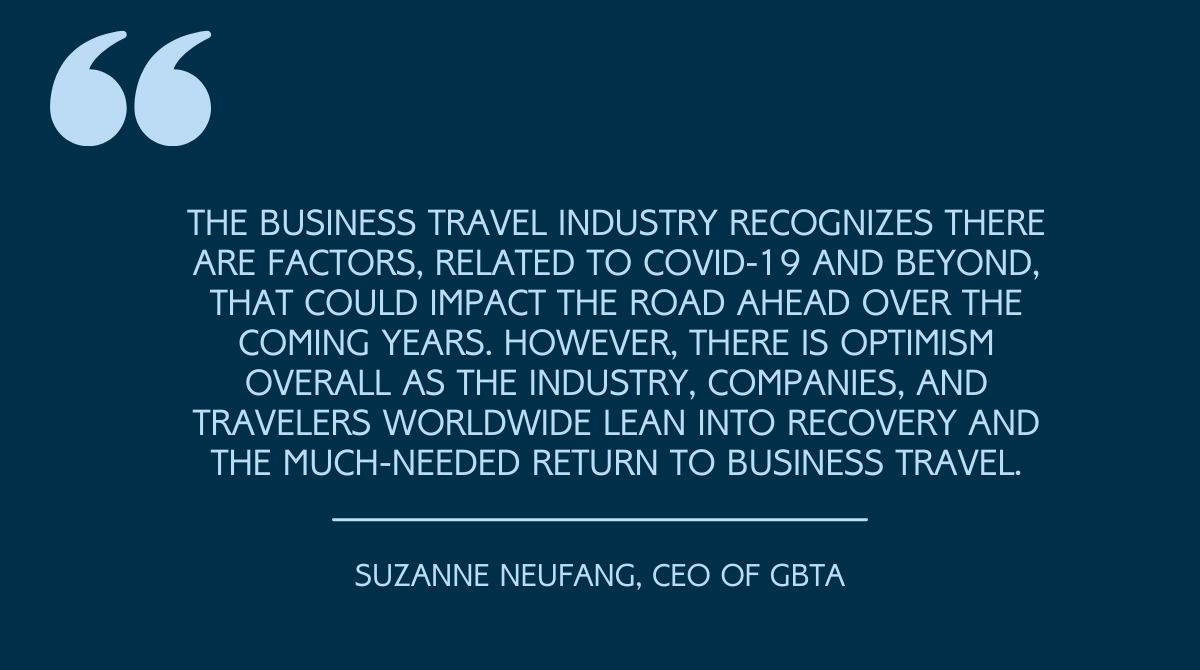 Smaller Markets Leading Extended-Stay Recovery
According to a report released last month by The Highland Group, U.S. extended-stay lodging continues to have a strong performance. Terri Hardin discusses the report in a Business Travel News article highlighting that hotel leaders see the most business travel coming from manufacturers reshoring their production operations, traveling nurses and doctors, project teams, entertainment professionals, and insurance professionals.
Solving Key Challenges for Business Travel
A more mobile workforce creates risk. International SOS published its annual 2022 Risk Outlook Survey outlining the top threats to the global workforce in the next year. The survey shows businesses and employees are eager to travel. As business travel continues to ramp back up, organizations must focus on supporting their teams as they work and travel around the globe. Adopting the right technology will be the key to solving the complicated challenges brought on by a more mobile workforce.
Leverage Technology to Mitigate Risk: Topia Compass
As business travel returns at pace understanding employee footprint is critical to ensuring both the business and your employees are protected from audits, fines, and painful compliance breaches. Topia Compass delivers live dashboards, active notifications, and instant reports to provide a full picture of your global employee footprint, addressing key business travel challenges including:
Employee Footprint and Travel Activity
Payroll Withholding
Permanent Establishment
Jurisdiction Time Monitoring
Pre-Travel Assessments
Want to learn more about Topia Compass? Contact us here.