Navigating Business Immigration | Oct. 2023
Topia's Immigration News & Solutions Roundup - October 2023
Welcome to 'Navigating Business Immigration,' our new series featuring the latest global developments in business immigration, from visa program updates and policy changes to the evolving immigration landscape. Join our in-house immigration experts as they report on immigration updates and how these are being implemented into Topia's range of products and solutions.
United States / Israel: Israeli nationals eligible for US Visa Waiver Program

as of October 19, 2023
Israel's admission date to the United States' Visa Waiver Program (VWP) was moved up to October 19 from November 30, 2023. The Electronic System for Travel Authorization (ESTA) has been updated to enable citizens of Israel to apply for an ESTA travel authorization. This will permit them to travel visa-free to the United States for tourism or business for up to 90 days.
How has Topia addressed this in its immigration solutions?
Israel was added to the United States' list of visa-waiver countries in Topia's immigration assessment system so that Israeli nationals will show as visa waived for work-permit exempt travel of up to 90 days in assessment outcomes.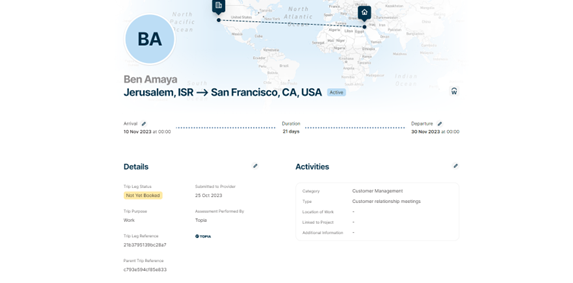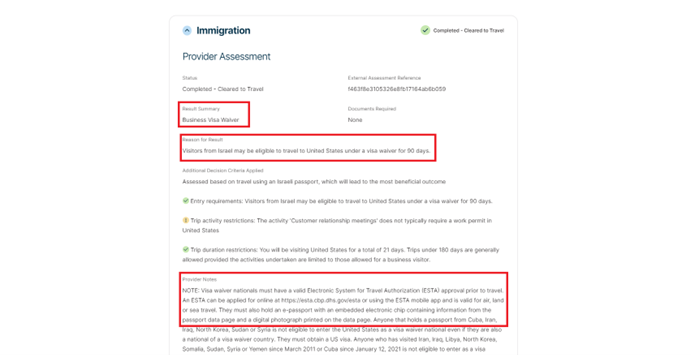 Costa Rica: Maximum allowable stay under visa exemption increased for certain visitors
The Costa Rican government also recently made changes to its visa waiver program. The government increased the maximum allowable stay for visa-exempt visitors who are nationals of "Group One'' countries to 180 days per visit, up from 90 days. The increase applies to both tourists and business visitors. Group One countries include Australia, Canada, the United States and all European Union and Schengen Area countries, among others. Foreign nationals cannot work for a Costa Rican entity while in visitor status.
How has Topia addressed this in its immigration solutions?
The allowable stay for Costa Rica's "Group One" countries was extended to 180 days from 90 days in Topia's immigration assessment system so that these nationals will show as visa-exempt for longer visits.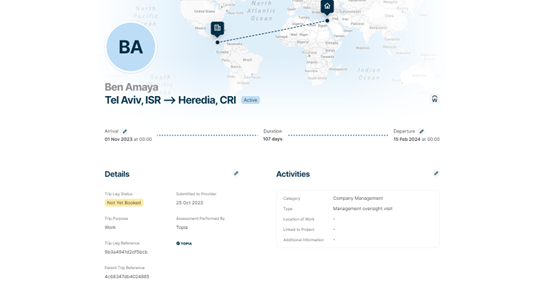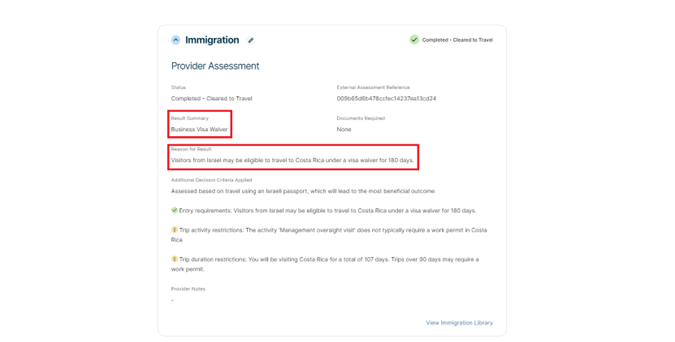 South Africa: Trusted employer scheme pilot now operational
The rollout of South Africa's Trusted Employer Scheme (TES) pilot has begun. The TES offers participating employers a simplified work visa process and reduced work visa requirements.
Employers who wish to participate in the TES pilot may now submit an Expression of Interest (EOI) by November 20, 2023 using the EOI Application Form available on the DHA website. To qualify for the TES, employers must score a total of at least 80 points across five categories. A description of each category and the supporting documentation required for each is outlined on the application form.
How has Topia addressed this in its immigration solutions?
A notation about the TES was added to the end of the Work Permit Process section of our Global Immigration Library summary for South Africa.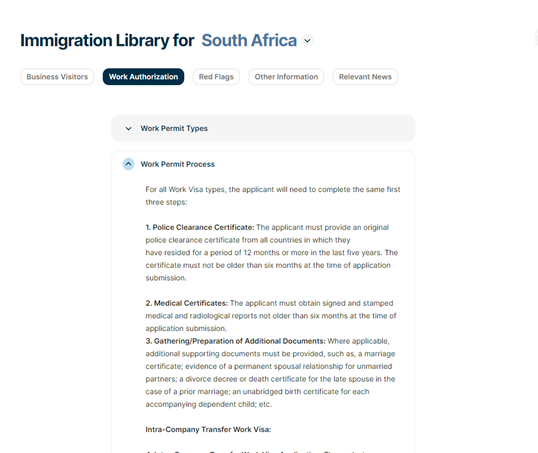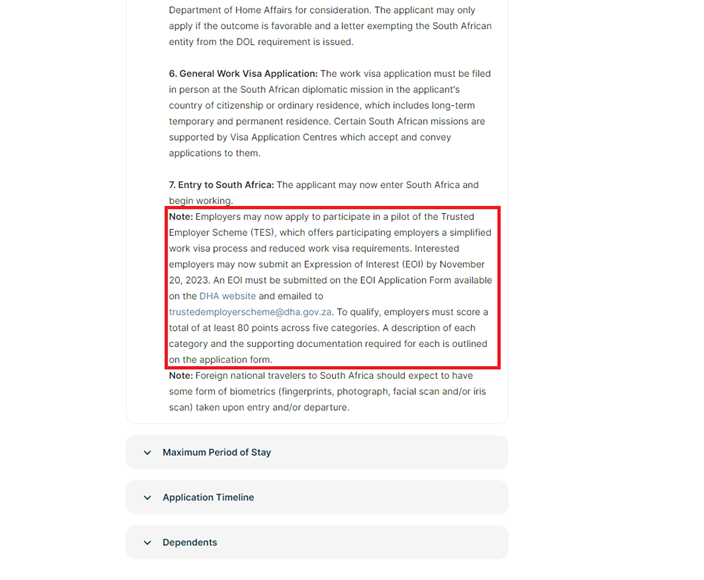 Topia's Solutions for Immigration
Global Immigration Library
Topia's Global Immigration Library provides instant access to the most up-to-date domestic and global immigration information for almost 80 countries. This includes allowable business visitor activities, common work permit types and process steps, maximum durations of stay for both visitors and workers, and average visa and work permit processing times. The data that powers the library is provided by a network of the world's top immigration experts. Find out more about Topia's Global Immigration Library by clicking the link above.
Visa & Travel Risk Management
Topia's visa and travel risk management tool allows business travelers and remote workers to perform their own pre-travel immigration assessments in real-time. The tool helps employees understand exactly which documents they will require to enter a country based on their nationality, duration of stay, and activities, i.e. a work permit, a business visa, an electronic travel authorization, or just a passport. Find out more about Topia's visa and travel risk management tool by clicking the link above.
Topia's immigration solutions enable assignees, remote workers, business travelers and their employers to stay compliant with global immigration requirements and to prepare for their immigration processes.
Want to know more about Topia's immigration solutions? Reach out to info@topia.com to find out more.