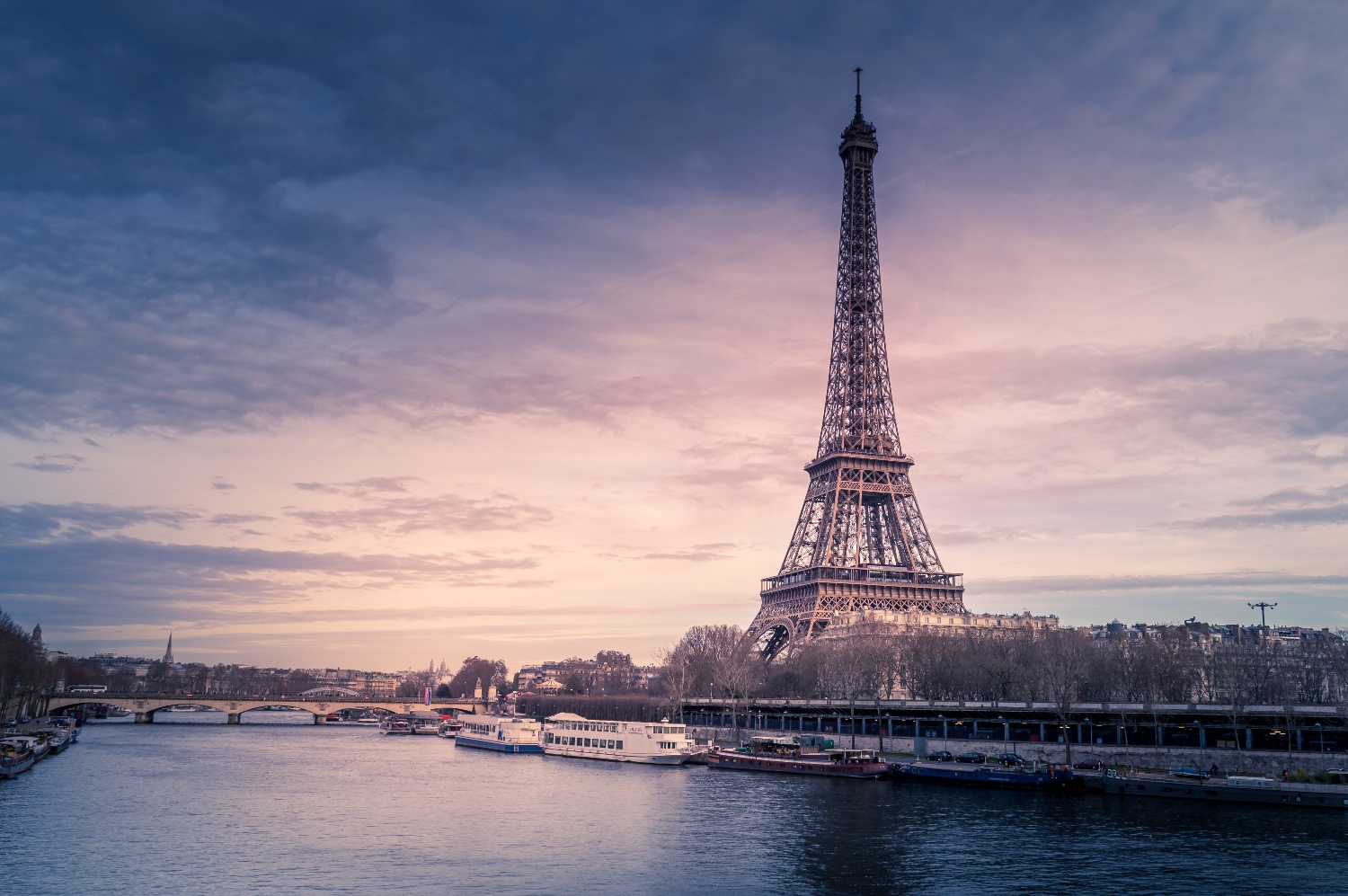 Insight from our October "feet on the street" survey - Improvements needed for global mobility programs
October was a busy month for the Topia Team. We held several intimate networking events, launched a mobile app, and attended two HR trade events. Even though we had a lot going on, we wanted to use the opportunity two large trade shows afforded us to speak with HR and global mobility practitioners. Mainly we sought to gather insight into how they're feeling about the maturity and strategic nature of their mobility programs. To do that, we held a small "feet on the street" survey. The results indicated there's still a good deal of improvement needed to really propel mobility programs into a proactive, strategic partner for their businesses.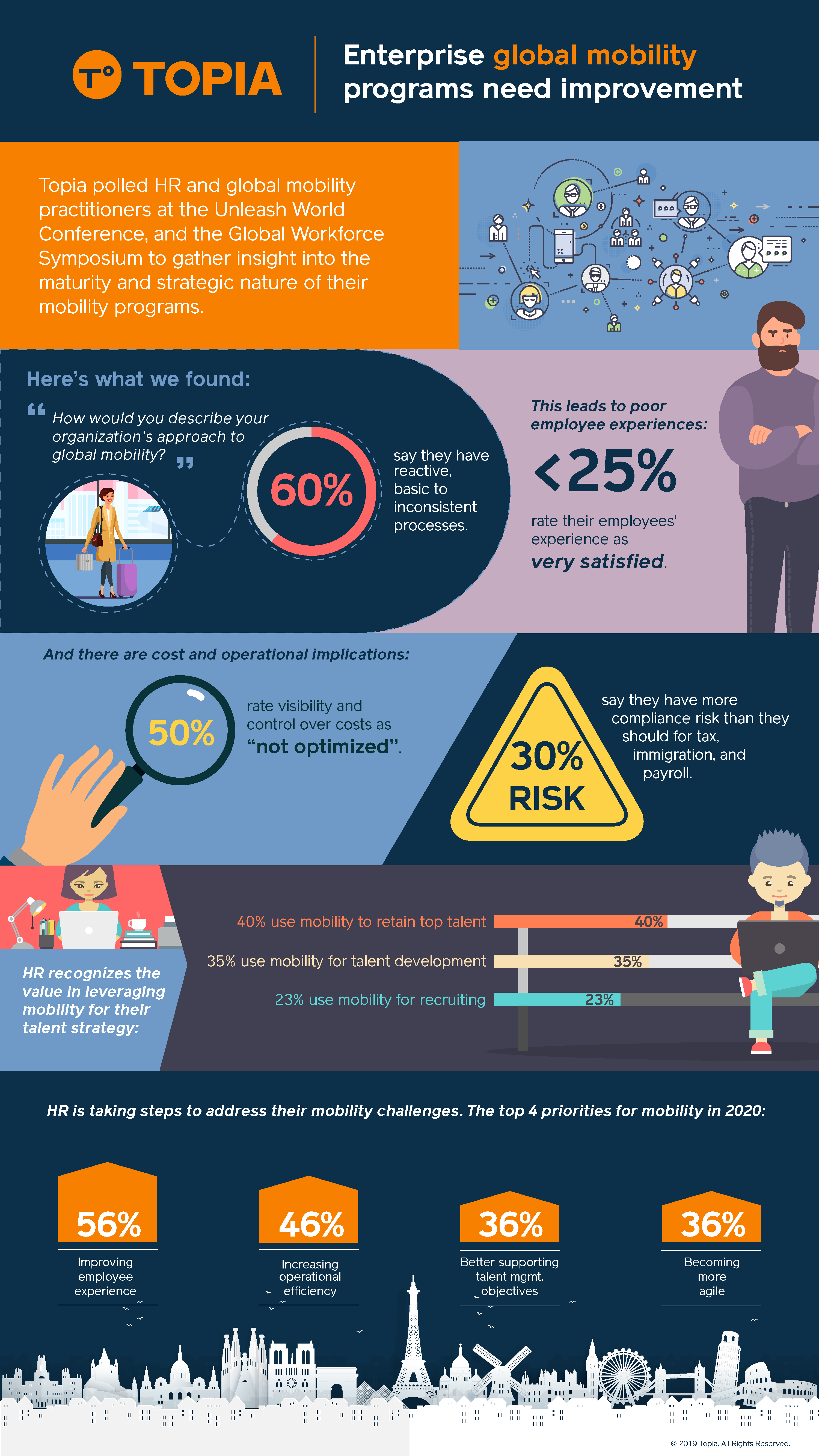 The events we attended were the Global Workforce Symposium and the Unleash World Conference. The Global Workforce Symposium is the largest global mobility event in the U.S., bringing nearly 2,000 global mobility practitioners, vendors, and partners together. UNLEASH World is the premier event for senior HR technology buyers; this year's conference in Paris drew 4,400 attendees. These events are an excellent opportunity for folks in the industry to share best practices and learn about new solutions.
In our short survey, we looked to understand how participant's programs were operating today and if they were able to achieve their strategic goals with them. We polled 40 corporate HR and mobility practitioners that stopped by our booth. The results showed that there's still a good deal of room for improvement.
In a positive signal, most respondents indicated that mobility programs are being used to help implement their talent strategy – 40% use mobility to retain top talent, 35% use it for talent development, and 25% use it as part of their recruiting strategy. We feel that these percentages will continue to grow, but there are critical operational blockers highlighted in other areas of the survey that must be addressed to make that happen.
Survey participants were very aware of the challenges their mobility programs face today:
20% indicate their mobility programs lack a consistent process and structure.

40% of respondents indicate their programs only have basic processes in place and operate in a reactive nature.

Less than a quarter think that their relocating employees would rate their experience as "very satisfied."

Only 18% feel they have complete visibility into mobility costs with optimized spend.
The good news is our survey participants are committed to tackling these issues. Over the next 12 months, the top three items their organizations will be focussing on with their mobility programs are: improving employee experience, improving operational efficiency, and supporting talent management objectives in an agile manner.
Each mobility program is unique and nuanced in its own way. For further insight into the efforts organizations are taking to make their mobility programs more strategic, we asked global mobility practitioners their priorities for 2020. You can see some of their responses below.
If you're looking for ways to improve your mobility program in 2020, investing in global mobility management technology can have a significant positive impact. Our recent eBook, Global Mobility Management Technology ROI – Invest for Value, highlights some of the tangible areas where technology can deliver ROI as well as steps to build the business case to secure broader business buy-in. You can download the complimentary ebook here.